Over the last few weeks, we gave you an overview of the library's streaming video platforms, introduced you to Academic Video Online (AVON), and shared some great resources for feature films. This time our focus is on Docuseek, our newest streaming platform.
Docuseek at a glance
Provides access to more than 2,000 documentaries from independent distributors.
Content providers include Bullfrog Films, Icarus Films, Collective Eye, GOOD DOCS, and more.
Covers a wide range of subjects, with an emphasis on social issues, anthropology, environmental issues, and history.
These films are generally not available through other streaming platforms.
Using Docuseek
To access this resource, start at our A-Z Databases page and select Docuseek from the list. If you are off campus, you may be prompted to enter your UH login first.
The home page displays popular/timely films and top subjects.
Click on the Browse link at the top of the screen for an A-Z list of films available, the Subjects link to view films categorized by hundreds of subject areas, or the Search icon to perform a title or keyword search.
After performing a search or browsing the A-Z list of films available, you may filter your results by subject, year, or source (distributor). Enter your criteria in the left sidebar, then click on the Filter button. Advanced search functions are available by clicking on the More search options button.
After selecting a video, you may generate a direct link by clicking on Embed. Many videos have transcripts, which may be viewed by clicking on the Transcript button. Some videos even have interactive transcripts that allow you to click on a section of text to skip to the corresponding part of the video.
Additional features, such as creating clips and playlists, are available to registered users. Register for your free personal account by clicking on the Register link at the top of any page.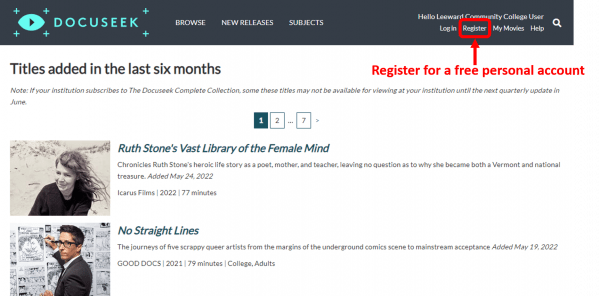 Top 5 Docuseek videos at Leeward CC
Docuseek is a very recent addition to our streaming video platforms, but these are the most popular titles so far:
Native men return to Hawaii after their cultural reawakening at a private prison in the Arizona desert.
Diagnoses the 'disease' of materialism and prescribes its antidote, simple living.
Adam Smith, The Birth of the Free Market
Episode 1 of the Capitalism series. Capitalism is much more complex than the vision Adam Smith laid out. Indeed, it predates Smith by centuries and took root in the practices of colonialism and the slave trade.
Internet cafes have existed in Japan for well over a decade, but in the mid 2000's customers found a new use for these spaces: living quarters.
Investigates the electronics industry and reveals how even the smallest devices have deadly environmental and health costs.
Intrigued? It's hard not to be when compelling stories are brought to life so vividly through film. Experience these stories, and hundreds more, at Docuseek.
Tune in next time, when we'll cover one of the library's most popular resources: Kanopy!