As the old saying goes, history tends to repeat itself. Maybe as a farce. Or perhaps only if you failed to learn from it the first time.
In any case, we now have additional resources to help us unravel this mystery! Through a UH system-wide license, the Leeward CC community has gained access to 3 historical newspaper archives from ProQuest: The Wall Street Journal (1889-2011), Los Angeles Times (1881-2014), and The New York Times (1851-2019).
To get started, visit our A-Z Databases page and find your newspaper in the alphabetical list, or search for it in our Primo library catalog. If you are off campus, you may be prompted to enter your UH username and password before being granted access. Once you are in the database, it is easy to search the full text, or browse by issue date. You may view and download articles or full pages in PDF format.
Our coverage of the Los Angeles Times goes all the way back to the very first issue in 1881. Here's an interesting article from January 17, 1960 about the impact of a writers' guild strike on the television and film industries:
Writers Guild Strike Spreads to Film Studios
The New York Times archive dates back to antebellum times, so you're sure to strike a goldmine of history. This article from February 23, 1947 details Hawaiʻi's reopening to tourism after the trauma of World War II: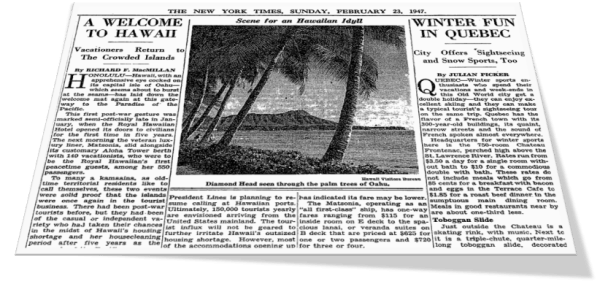 A Welcome to Hawaii: Vacationers Return to the Crowded Islands
The Wall Street Journal has been an important source for business and financial news for over 130 years. Our coverage goes back to the beginning, but you can also find more recent articles, such as this February 9, 2001 story about Barbie's big break:
Barbie Learns Ballet and Launches a Movie Career
Wait a second . . . an impactful writers' strike? Hawaiʻi's reopening to tourism, following a major worldwide crisis? A Barbie movie? Maybe it IS true that history repeats itself!
If history isn't your thing, don't forget that we also have recent newspaper coverage (including stories from the Honolulu Star-Advertiser) through ProQuest US West Newsstream. In addition, all current Leeward faculty, staff and students are welcome to sign up for a free New York Times group pass. Once registered, you will have access to news, Cooking, and Wirecutter product reviews on NYTimes.com for one year (renewable).
Past or present, weʻve got you covered!
---