Library Extended Hours: May 2-12
Monday – Friday
8am – 6pm
We will offer free snacks and relaxation kits, while supplies last!
Supplies are funded by Student Government. Spring 2022 Leeward registration required.
For more information about Finals Countdown, please visit go.hawaii.edu/feE
---
FINISH STRONG WITH LEEWARD TUTORING!
WRITING CENTER HOURS
Tutoring will be offered in-person, online, and by phone.
Monday-Thursday: 10 am – 3 pm
Friday: 11 am – 3 pm
EXTENDED HOURS VIA ZOOM AND BY APPT: M-F 3-5 PM
Zoom drop-in available via Penjiapp.
Become a Leeward Writing Consultant
We are hiring! Writing Consultants help fellow peers achieve their academic goals.
For details on how to apply, check out this flyer or apply for the Writing Consultant II position online through UH SECE.
Students may also contact me directly, tashawil@hawaii.edu, for more information.
LEARNING RESOURCE CENTER
In-person and online tutoring in the following content areas: Accounting, Biology, Business, Chemistry, Computer Science (*New ICS 211 tutor available), *Hawaiian, Japanese, Microbiology, and Physics.
*See Penjiapp for subject-specific hours and tutors.
Monday-Thursday: 10 am – 3 pm
Friday: 11 am – 3 pm
EXTENDED HOURS VIA ZOOM AND BY APPT in the following areas: Business and Chemistry
*In-person tutoring by appointment. Email lrctutor@hawaii.edu or go to Penjiapp to schedule an appointment.
For more information about the LRC, go to our website: https://www2.leeward.hawaii.edu/lrc/
---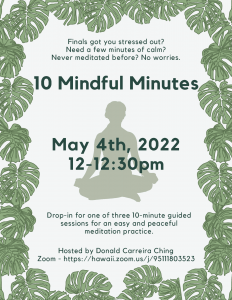 10 Mindful Minutes: Wednesday, May 4th
12-12:30pm
Hosted by Donald Carreira Ching
via Zoom
Finals got you stressed out?
Need a few minutes of calm?
Never meditated before? No worries.
Drop-in for one of three 10-minute guided sessions for an easy and peaceful meditation practice.
Zoom: https://hawaii.zoom.us/j/95111803523
---
Emergency Laptop Loans
If you know of a student in need of a laptop through finals week, please have them contact Circulation Services (808-455-0210 or lcccirc@hawaii.edu).
Leeward CC students (or UH students registered for at least 1 Leeward CC class) may borrow mobile devices and accessories. Early College students are ineligible.
---
Friday, May 13: Learning Commons closed due to Commencement
Online services will be available
Library
Writing Center

Online Appointments via Penjiapp: 11am – 5pm

Learning Resource Center

Online Appointments via Penjiapp: 11am – 3pm
---
Interim Week (May 16-20): Library Closed
Online Chat and Phone: Monday – Friday, 8am – 4pm
---
Learning Commons & Library Annual User Survey
Please take a few minutes of your time to complete our annual survey to help us improve services. Survey ends Friday, May 13th. Mahalo to those who already submitted!