Did you know the Learning Commons and Library has laptops, iPads, computer mice, and other equipment for students to use while on campus?
Most of our equipment must be checked out at the circulation desk but students can pick up our 4-hour loan laptops and mobile power units without staff assistance!

4-Hour Loan Laptops
Students can visit our self-service kiosk to check out a laptop for 4 hours. How to check out a laptop:
With a mobile device, open the camera app and scan the QR code on the kiosk
Log in with UH username
Get a passcode
Enter the passcode on the kiosk
If students do not have a mobile device to scan the QR code, the circulation desk staff will assist. 
Laptops are for on-campus use. Students must return their laptops to the laptop kiosk and may insert them in any available slot.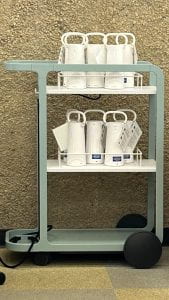 Mobile Power Units
Students can power up their laptops and mobile devices using our portable batteries! We have carts on both floors so students can freely grab a battery and take it wherever they are studying. Specifications:
3 USB-C ports and 1 USB-A port
218 watt-hour capacity
117W of total charging output
Charges up to 4 devices
Batteries can only be used in the Learning Commons and Library. After using, they must be returned to their carts to recharge. The USB ports cannot be used to recharge the batteries. 
For all other equipment, students must book items at go.hawaii.edu/PJP and pick them up at the circulation desk. Only current Leeward CC students may check out mobile devices and accessories. A photo ID is required.